Introducing APS-7306LS DC Programmable Power Supply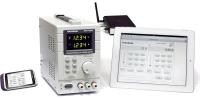 06.06.2023
AKTAKOM APS-7306LS Programmable power supply to power radio technical equipment with stabilized voltage and current in repair process, laboratory research.
APS-7306LS DC Programmable power supply is the updated version of world famous Aktakom APS-7305L. In 2013 at Best in Test Award competition annually held by American "Test & Measurement World" APS-7305L became the winner in 2 categories at once "Power supply" and "Test Product of the Year"!
AKTAKOM APS-73xxLS series programmable DC power supplies differ from other similar devices by wide capabilities of local and remote control through AKTAKOM Power Manager software.
Available at www.tmatlantic.com.
---
Related Information: