Aktakom APS-1006 power supply. High quality at a very low cost!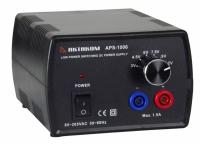 22.01.2018
Aktakom APS-1006 low power switching DC power supply is foremost designed for educational purposes, it's perfect for laboratory works since it's very simple in use.
APS-1006 switching DC power supply has 6 fixed output voltages (3V, 4.5V, 6V, 7.5V, 9V, 12V) and over current protection.
Among other specifications:
Input voltage: 85~265VAC 50/60Hz
Output voltage: 3V, 4.5V, 6V, 7.5V, 9V, 12V
Output current: 1.5A
Load regulation: 20mV
Line regulation: 15mV
Ripple&Noise: 1.5mVrms, 5mVpp
Output accuracy: ±5%
Protection: Over current
Dimensions: 110 x 74 x140 mm / 4.3 x 2.9 x 5.5 in
Weight: 0.3 kg / 10.6 oz
One more distinguishing feature of this model is its very low price – 54$ only for a compact high quality power supply!
Find more details on page of Aktakom APS-1006 power supply.
---
Related Information: