AKTAKOM APS-7306 power supply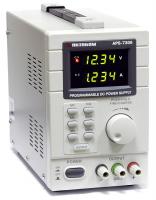 21.09.2020
Our Catalog has a wide range of power supplies. AKTAKOM APS-7306 is a DC programmable power supply which is designed to power radio technical equipment with stabilized voltage and current in repair process, laboratory research.
This model is perfect for repair services and in scientific and research laboratories.
Below you may see the main features of this power supply:
Dual LED display for voltage and current
Coarse and fine adjustments of voltage and current
Protection mode: current limiting
Output connectors: insulated safety plugs
Organic glass front panel / other panels made of steel
Computer connectivity: pc remote control via USB.
Briefly about the specifications:
Number of channels: 1
3 programmable memories
Output voltage: 0…30 V
Output current: 0…5 A
Output voltage resolution: 10 mV;
Output current resolution: 1 mA;
Base accuracy of the output voltage and current: 0,5%;
Output voltage ripple: 2 mVrms;
More details are available on AKTAKOM APS-7306 page.
---
Related Information: