Professional AKTAKOM ATE-1509 Light Meter. 400000 Lux becomes real!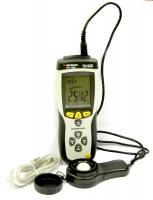 08.03.2021
AKTAKOM ATE-1509 light meter has 4 operation modes:
up to 400.0 Lux
up to 4000 Lux
up to 40.00 KLux
up to 400.0 KLux
and allows measuring light with the basic accuracy up to ±3%.
ATE-1509 light meter is capable of measuring both in Lux and ft-candles.
AKTAKOM ATE-1509 has built-in memory for 99 readings. Besides it's possible to use auto data logger mode with sampling time setting from 1 to 99 sec.
For further processing and registration the device data can be forwarded to the PC via USB interface. Special software allows not only real-time data sending but also viewing the memory cells and the recorded auto data logger values.
Due to its unique measurement range (up to 400000 Lux) and auto data logger availability ATE-1509 light meter significantly extends the capabilities of AKTAKOM light meter family.
Much more information as well as the operation instruction is available on page of AKTAKOM ATE-1509 light meter.
---
Related Information: