23.05.2023
VSE Aviation a leading South Florida aerospace contractor has chosen AKTAKOM
ATE-9382
for their Humidity/Baro/Temp. Monitor.
ATE-9382 is a monitor with real time datalogger which saves the measuring data along the time information (year, month, date, hour, minute, second) into the SD memory card and can be downloaded to the Excel without any extra software, users can make the further data or graphic analysis by themselves.
Here are some more details about this model:
Aktakom ATE-9382 is a 3-channel datalogger capable of the following parameters monitoring: relative air humidity, air temperature and atmosphere pressure. The information about the measured data is received from the built-in sensor and the data of every parameter is displayed simultaneously, in a separate line each. Thus this model is very convenient to monitor the meteorological or climatic environment.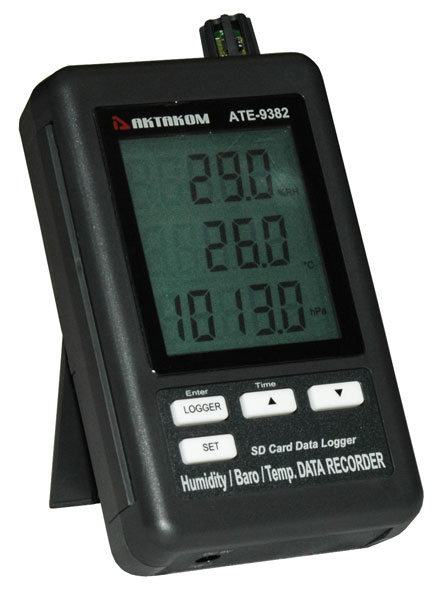 ATE-9382 allows fixing air temperature parameters at 0 to 50°C range, relative humidity (10%...90%RH) and atmosphere pressure (from 10 up to 1100 hPa) with high precision and resolution. ATE-9382 also has "Auto" mode but comparing to ATE-9380 in ATE-9382 this mode can fix the data when 1 of 2 parameters has been changed: when temperature is changed by more than ±1°C or the relative humidity is changed by more than ±1%RH.
Aktakom ATE-9382 can record the measured data to SD card in real time in Excel format and without any additional software used. SD card can be from 1 to 16 Gb but to make sure you have enough space it's recommended to used 4 Gb cards. To make the next analysis more convenient you need to specify the full date (date, month and year) and time (hour, minute and second).
Saved data (table format, .xls) will look the following way: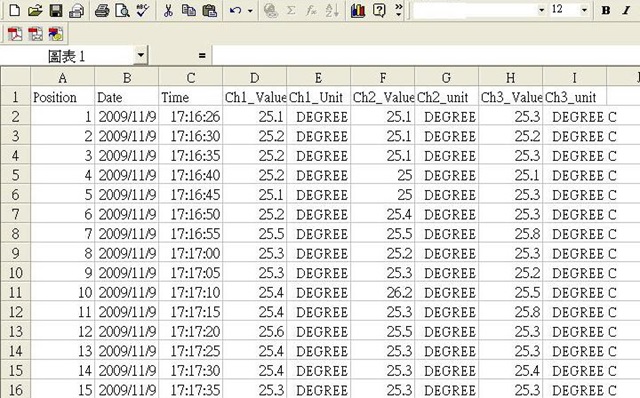 And using Excel this data can be easily converted into the graph form: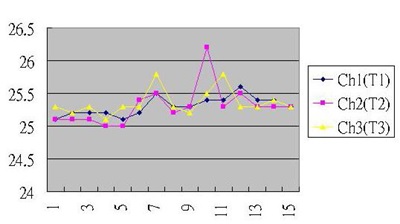 Find more details here.