Super compact soldering station for amateurs and professionals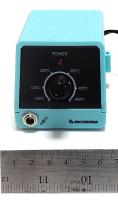 25.07.2022
Aktakom soldering station is a perfect addition to our
soldering station range
. Due to its compactness it occupies a very small working area making your work easy and convenient.
In spite of its small size its power (8W) and wide temperature range (100°C - 450°C) allow ASE-1128 to make all types of work which can be made by any other more massive models.
ASE-1128 is used for soldering SMDs (surface mounted devices) that require diverse power levels. The control dial is used to set the required power level.
Numerous advantages of this model would be interesting for both amateurs and professionals. To check all of the functions and abilities of this model visit Aktakom ASE-1128 web page.

ASE-1128 is available from stock already! The price of this soldering station is $11 only!
Looking forward to your order!
---
Related Information: