New power supply in AKTAKOM product range!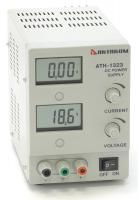 13.11.2017
Our Catalog keeps on including new models into its product range. We would like to introduce one of them that has been recently replenished AKTAKOM DC power supplies family.
AKTAKOM ATH-1323 DC power supply outputs smoothly regulated stabilized voltage and current. Due to its precise setting capabilities of the output parameters and the affordable price ATH-1323 is considered a perfect power supply for the use in research laboratories and for electronic equipment adjustment.
Speaking about the technical specifications of this model here is the list of the main ones:
Channels: 1
Output voltage: 0...18 V
Output current: 0...3 A
Setting error of the output voltage: 1% + 2 dgt
Setting error of the output current: 1,5% + 2 dgt
Voltage ripple and noise (rms), typical: 1 mV
3 digit LCD
Short circuit protection
Current and voltage stabilization mode
Read more about AKTAKOM ATH-1323 on its web page.
---
Related Information: