Power supply catalogue keeps on growing. New model from Aktakom!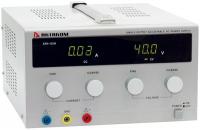 11.07.2016
At the moment we are glad to present a new model of Aktakom power supply. ATH-1236 model is a high-precision DC regulated power supply widely used for repair and laboratory research.
ATH-1236 outputs smoothly adjustable stabilized DC voltage and stabilized current. Constant voltage and constant current are switchable automatically and the current limit protection point can be set arbitrarily. In the constant current state, output current is continuously adjustable.
Specifications of Aktakom ATH-1236 are as follows:
Number of channels: 1
Output voltage: 0...30 V
Output current: 0...10 A
Inaccuracy of output voltage setting: 0.2% + 2 digits
Inaccuracy of output current setting: 1% + 2 digits
Voltage ripple and noise, RMS (typical): 1mV
Power supply: 110V/220V
Dimensions: 10.2 x 6.3 x 13.4 in / 260 x 160 x 340 mm
Weight: 19.8 lb / 9.9 kg
Visit Aktakom ATH-1236 to see other features and functions of the current model.
---
Related Information: