Most popular AKTAKOM ASE-4508 Multifunction Temperature Controlled SMD Rework Station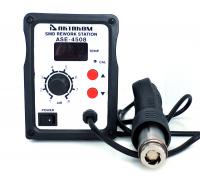 27.04.2016
AKTAKOM ASE-4508 is a multifunction temperature controlled SMD rework station with digital indication and 700W power.
ASE-4508 provides the air flow heating from 212 up to 842°F (100 up to 450°C) and the maximal air flow may achieve 120 l/min. The station is equipped with a low noise brushless fan.
One of the main features of AKTAKOM ASE-4508 is the wide range of changeable nozzles which structural design is compatible with all types and dimensions of housings used for present microcircuits: QFP, SOP, PLCC and BGA. The material used for these nozzles production is stainless steel with strictly precise dimensions. Such configuration allows moving hot air flow directly to the certain microcircuit area.
ASE-4508 rework station is designed for various application spheres including: average and large service centers; repair of equipment for mobile communication and radio stations; repair of handheld technologies and motherboards; repair of local network equipment and net nodes.
This model is rather compact and occupies a minimal space that will help you to organize a high performance work area.
AKTAKOM ASE-4508 has the following features:
LED display
High power: 700W
Quick temperature rising
High and stable temperature, not affected by the air volume to achieve the lead-free unsoldering
The air flow velocity can be easily regulated
The handle has a special magnetic sensor, the hot air gun starts blowing only when you take it out from the holder
There is no automatic cooling function that can extend the lifespan of the heating element and protect the rework station.
Low noise brushless fan
Safe and reliable
Visit the page of AKTAKOM ASE-4508 rework station to see what other advantages this device has.
Follow our news!
---
Related Information: