Everything you would like to know about ACM-2353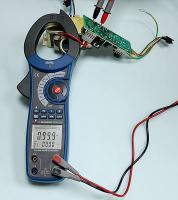 26.10.2020
AKTAKOM ACM-2353 Professional True RMS 1000A AC Watt Clamp Meter provides accurate Watt, AC Current and Voltage readings regardless of waveforms. With some of this clamp meter main features, which is analysis for Single Phase and Balanced 3 phase system, embedded memory, USB interface use etc., this model is quite popular.
At the moment besides the technical characteristics our web site contains additional information that will help you to find more useful details about this model. Thus on AM-2353 page, in Application tab you will find the detailed operation order description.
Follow FAQ tab to find the answers for the most frequent questions.
Check AKTAKOM ACM-2353 clamp meter page to see all of the capabilities of this clamp meter model.
---
Related Information: