Aktakom ACM-2036 Clamp Meter. High quality and easy operation!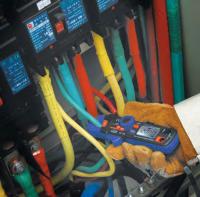 25.05.2020
Aktakom ACM-2036 is TrueRMS clamp meter, universal and compact device that also provides multimeter, non-contact voltage detector and a flashlight functions.
ACM-2036 has the following features:
AC/DC Voltage, AC/DC Current, Resistance, Continuity, Diode check
Digital display counts: 2000-9999
0.7in Jaw opening
Non-contact Voltage detector and Flashlight
Data Hold function
MAX/MIN function
DCA Zero function
Auto Power Off
Peak Hold function
Low battery indication
You can find more details about operation of Aktakom ACM-2036 clamp meter on its page. The detailed instruction can be found in Application and FAQ tabs and the picture of ACM-2036 controls will help you to easily operate this clamp meter.
---
Related Information: