AKTAKOM ATH-1333 power supply for the use in debugging process, repair and laboratory research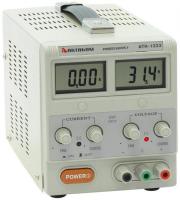 22.06.2020
AKTAKOM ATH-1333 is widely used in debugging process, repair and laboratory research since it outputs smoothly adjustable stabilized DC voltage and stabilized current. Moreover itís a perfect power supply for science investigation, college, factory, electronic appliance maintenance and etc.
The unit structure is rather compact, ATH-1333 occupies a very small working area. Other features of this power supply include high performance, short circuit protection availability, modern design etc.
ATH-1333 has digital indication, all information is displayed on 2 3-digit LED displays.
The main features of this power supply:
3 digit LCD
Short circuit protection
Stabilization mode (current, voltage)
Specifications:
Number of channels: 1
Output voltage: 0...30 V
Output current: 0Ö3 A
Inaccuracy of output voltage setting: 1% + 2 digits
Inaccuracy of output current setting: 1.5% + 2 digits
Voltage ripple and noise, RMS (typical): 1mV
Power supply: 110V/220V
Dimensions: 11.5x6.2x5.4 in / 291x158x136 mm;
Weight: 11lb / 5 kg.
For more details click here
.
---
Related Information: