The use of AKTAKOM ATK-2250 clamp meter with an oscilloscope or external multimeter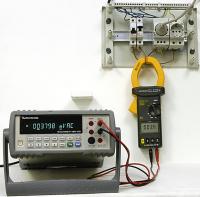 23.10.2017
AKTAKOM ATK-2250 is a reliable, powerful clamp meter with an extended current range (up to 2.5 kA) for the operation in electricity generating units. Max. grip size for a wire: 2.6 x 0.9 in / 65 x 24 mm, grip diameter: 2.2 on / 55 mm. This clamp meter model has an analog output and can be used both as a separate device and within some measurement complex. Frequency range of current and voltage under measurement is extended up to 1 kHz.
ATK-2250 has the following specifications:
Measurement:
- Direct current: 0.1…2500 A (accuracy: 4.5…2%)
- Alternating current: 0.1…2100 A (accuracy: 1.5…3%) (40…1 kHz)
- DC voltage: 0.1 mV...600 V (accuracy: 1.5%)
- AC voltage: 0.1 mV...600 V (accuracy: 1.5…2%) (40...1 kHz)
- resistance: 0.1 Ω...40 MΩ (accuracy: 1.5%)
- Frequency: 100 Hz...1000 kHz with 0.01 Hz resolution (accuracy: 0.5%)
Basic accuracy: ±1.5 %±3 dgt
Continuity test: < 40 Ω
Diode test: 3 V
Measurement time: 2 times per sec. for the digital indicator, 20 times per sec. for the graphical scale
Grip size: 2.2 in / 55 mm, for a wire: 2.6 x 0.9 in / 65 x 24 mm
3¾ digit LCD
Service functions:
- zero auto set
- data hold
- hold of max. and min. values
- measurement range auto set
- analog output for an oscilloscope or multimeter
Battery: 9V
Dimensions: 10.7 x 4.4 x 1.8 in / 271 x 112 x 46 mm
Weight: 1.4 lb / 647 g
AKTAKOM ATK-2250 can be used together with an oscilloscope or external multimeter. Therefore follow the below steps:
Set the rotary switch to «A» or «~A».
Connect the test leads (they are not included into the standard accessories kit) to «+» and «COM» respectively.
Connect these sockets with the similar sockets of the multimeter or, using a special cable, with the oscilloscope socket and the display will show the measured value
The page of AKTAKOM ATK-2250 contains the full description of the clamp meter, its technical characteristics, lots of additional pictures and the answers for other frequently asked questions.
---
Related Information: