New Aktakom AME-1733 – 3 channel USB/LAN monitoring system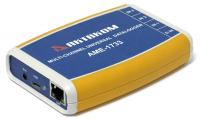 02.05.2017
Aktakom AME-1733 measuring datalogger represents a base system block for continuous low-speed analog-to-digital conversion on several analogue input channels with the capability of data transferring to PC via USB and LAN. There can be different device sensors connected to analogue input via two-wire circuit with common ground. These sensors should have a voltage output. For every input there can be any sensor type taken, therefore you may construct various combined monitoring systems basing on this module.
One digital channel (4-wire, I2C type) is used to connect different external boards or sensors with digital output.
Triggering input is used to start or stop the data conversion process in the module or to form time mark during the measurement process.
AME-1733 module control and its data transferring are made through USB and LAN.
Module 5V power supply is made by the USB interface connector.
The module does not have galvanic isolation for: analog inputs, digital interface, triggering input, 5V powering and USB interface. Isolation (of the module from the PC) is implemented in LAN interface.
Technical characteristics:
Main specifications:
Analog input channels: 3
Input terminal type: audio (stereo), diameter: 3.5 mm
Input Impedance: 10 kΩ
Analog signal range: 2.048 V
Maximum input voltage: 5V
Converter digit capacity of 10 binary digits
Voltage measurement on all 3 inputs is mad simultaneously. Interval between the measurements: 0.3 ms.
One digital channel (4-wire, I²C type interface)
Input terminal type (construction): mini USB, there are +5 V signals in the connector, general (ground).
External triggering input:
Input terminal type: audio (stereo), diameter: 0.2 in / 3.5 mm
Input Impedance: 10 kΩ
Response level of synchronization input: 2V
Maximum input voltage of synchronization input: 5V
Find more details on page of Aktakom AME-1733.
---
Related Information: