New Aktakom soldering stations are available from stock already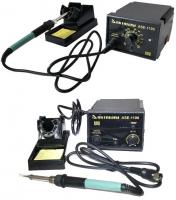 28.07.2016
Recently we presented new models of Aktakom soldering stations. Herewith we'd like to inform that new ASE-1105 and ASE-1106 models are available from stock today already!
Besides high quality and characteristics, which we are going to describe below, the very attractive thing you will find about them is their cost effective price. ASE-1106 costs $39.00. ASE-1105 model is $29.00 only! That would be the best solution for schools, colleges and other educational institutions.
And here are specifications for these models:
Model
ASE-1105
ASE-1106
Power consumption
60 W
Output voltage
24V
Temperature range
392 to 896°F / 200 to 480°C
ESD-safe
Yes
Indication
Scales
LED display
Dimensions
6.1x4.5x3.6 in / 155x113x92 mm
Weight
3.7 lb / 1.58 kg
3.7 lb / 1.68 kg
Among other features:
High quality heating element that can be easily replaced
Temperature can be easily adjusted with a rotary switch
Very light-weighted handle of the soldering iron.
More details can be check on pages of Aktakom ESD-safe ASE-1105 and ASE-1106 soldering stations.
Follow our news!
---
Related Information: