High performance working area with Aktakom ASE-4502 rework station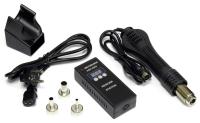 20.06.2022
Aktakom range of soldering equipment has been much broadened recently. And one of the new and unusual models is ASE-4502 rework station. Due to its design ASE-4502 occupies a minimal working space organizing a high performance work area.
The application fields of Aktakom ASE-4502 professional rework station are variable due to its adjustable air volume, large amount and soft blowing, convenient temperature control and ESD function. But it is especially recommended for work with temperature sensitive electronic components.
ASE-4502 operation is easy and very convenient. LED display indicates the temperature, brushless fan produces minimal noise. When user puts the handle back to the handle carrier the system automatically enters the standby mode protecting the system from overheat. The station can cool down itself prolonging the life of the hot air gun.
Specifications:
Power consumption: 700W
Output voltage: AC220V±10%; 50Hz/60Hz
Temperature range: 212-842 °F / 100-450°C
Airflow volume: 120L / Min (Max)
Dimensions: 11x7.5x6.7 in / 280x190x170 mm
Weight: 4 lb / 1.8 kg
Price for this very model is $49 only!
Click ASE-4502 link for more details.
---
Related Information: