AKTAKOM ASE-4204 soldering and rework station in one device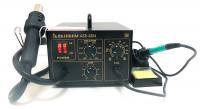 11.07.2022
Our Catalogue has a wide range of soldering stations. At the moment we'd like to draw your attention to AKTAKOM ASE-4204 2 in 1 soldering and rework station.
There is a hot air gun and a soldering iron available in one unit. At the same time the temperature and the air volume can be controlled by user depending on the operation type made. The replaceable nozzles can be chosen accordingly.
The indicator of ASE-4204 will blink rapidly when the temperature reaches the desired value. And the fan will keep on working for a moment after you finish the operation process and power off the station. This can extend the life of the heater and the handle.
ASE-4204 is ESD-safe. This universal model will guaranteedly protect the valuable electronic components from the electro static discharge.
In case of any questions concerning the specification of AKTAKOM ASE-4204 follow this link to see more details.
---
Related Information: