AKTAKOM ATT-6001. Contact tachometer for precise measurement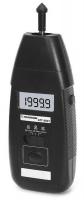 04.07.2022
AKTAKOM ATT-6001 is a portable tachometer which is designed for contact measurement of rotation velocity and linear velocity of details movement. It provides high precision measurement results. The last and max/min values can be memory recorded automatically.
Main features of the model:
Wide measuring range from 5 to 100,000 RPM
0.1 RPM resolution for the measured value <1000 RPM
The last value, max value, min value will be stored into the memory automatically and can be obtained by pressing Memory call button.
LCD gives RPM reading clearly and saves battery energy
This tachometer used the exclusive one chip Micro-Computer LSI circuit and crystal time base, offer the high accurate measurement and fast sampling time
More details about the technical specification AKTAKOM ATT-6001 can be checked on page of the model here.
---
Related Information: