ESD-safe AKTAKOM AEC-3529 chair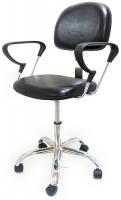 22.02.2021
AKTAKOM AEC-3529 chair with a soft seat and armrests is very comfortable and perfect for service centers, measuring and university laboratories, electronics production, office and home.
One of the advantages of this model is simplicity (there is no special assembly requirements!) and also safeness due to antistatic design. Material used to cover the seat and the chair back as well as the ESD wheels and five-star feet provide good conductivity and allow the static charge to flow smoothly and continuously.
Below you may see the main specifications of this chair model:
ESD-safe
Surface resistance: 106-109 Ω
Adjustable height: 18.9 - 25.2 in / 480 - 640 mm (match the wheels)
Five star foot: chrome plating steel, R = 11.8 in / 300 mm
Wheels: 5 pcs conductive type wheels
Armrest: unadjustable
Color: black
Seat: 17.3 x 16.1 in / 440 x 410 mm
Back: 16.1 x 11.8 in / 410 x 300 mm
Find more about AKTAKOM AEC-3529 chair on it page here.
---
Related Information: