AKTAKOM AMM-1009 low cost multimeter with up to 20 A current range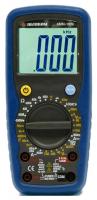 07.10.2019
In case you are looking for reliable solution to diagnose automotive equipment AKTAKOM AMM-1009 general purpose digital multimeter can be considered good decision therefore.
This high performance multimeter has double insulation, conforms to CAT II 1000V safety standard and full ranges protection. AMM-1009 has a high contrast 4000 counts LCD display which is convenient for work. In combination with its compact dimensions and light weight AMM-1009 is perfect for the above application.
The main specifications:
DC voltage: 1000 V ±(0,5%)
AC voltage: 700 V ±(1,0%)
Direct current: 20 A ±(1,0%)
Alternating current: 20 A ±(1,5%)
Resistance: 400 MΩ ±(0,8%)
Capacity: 40 µF ±(5,0%)
Frequency: 4000 kHz ±(0,1%)
Diodes and continuity testing
Measurement rate: 2.5 times per second, nominal.
On AKTAKOM AMM-1009 web page you will find more detailed specifications. Also check "Videos" tab to watch the detailed video instruction. One more advantage of this small and useful multimeter is its low price.
---
Related Information: