Dual channel function/arbitrary waveform generator AWG-4150 from AKTAKOM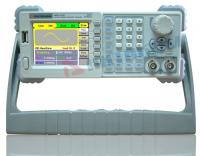 01.10.2019
AKTAKOM AWG-4150 generator is designed using direct digital synthesis (DDS) technology which ensures high frequency accuracy, low distortion, a fast transition from one frequency to another and lots of other high metrological parameters.
AWG-4150 represents both function and arbitrary waveform generator. Its front panel keeps the buttons to quickly recall five standard waveforms: sine, square, triangular, pulse and noise. And through the device menu there can be more 48 types of special waveforms generated.
This generator has such a distinguishing feature like 2 almost identical channels which differs it from many other similar models. The use of digital synthesis technology allows achieving the maximum resolution when setting the frequency in both channels – 1 μHz. Phase noise: 10kHz Offset, -108dBc/Hz (typical value).
Among other specifications of AKTAKOM AWG-4150 generator:
Max. frequency output: 50MHz
Sample rate: 125MSa/s
Wave length: 16Kpts
Frequency resolution: 14 bit
Modulation: AM, FM, PM, ASK, FSK, PWM, etc.
AKTAKOM AWG-4150 generator has a built-in 6-digit frequency meter with automatic and manual range selection (up to 200 MHz) with the ability to measure: frequency, period, positive / negative pulse duration and duty cycle.
Check more detailed specifications on AKTAKOM AWG-4150 page.
---
Related Information: