Temperature controlled station for lead free desoldering – AKTAKOM ASE-2105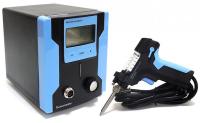 30.11.2020
AKTAKOM ASE-2105 is designed for lead free desoldering. The quick heating and strong power are the best terms for clear soldering / desoldering of all DIP components types.
This model is used in the field of electronic research, teaching and production, especially in the repairing and desoldering on the electronic appliances and communication equipment.
The desoldering iron gun is controlled automatically by the micro-processor. The digital control electronics and high-quality sensor and heat exchange system guarantee precise temperature control at the soldering tip. The highest degree of temperature precision and optimal dynamic thermal behavior under load conditions is obtained by the quick and accurate recording of the measured values in a closed control circuit.
Temperature range of this station is 320°F - 896°F (160°C - 480°C).
Check the page of AKTAKOM ASE-2105 station to see the additional pictures and detailed instruction. Also you may read the user manual which is also available on our web site.
---
Related Information: