Comfortable Aktakom AEC-3528 ESD chair at a very attractive price!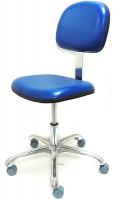 08.02.2021
When equipping modern electronics production it's necessary to pay special attention to means of protection against electrostatic charging.
A typical working place of an engineer or repair specialist should be not only structurally equipped, ergonomic, comfortable, but also equipped with necessary antistatic objects: chairs, desk mats, wristbands, tools, etc. Comfortable Aktakom AEC-3528 ESD chair would be a very good choice for your laboratory!
Special mechanism of this chair model allows user to adjust the optimum seat and backrest height (adjustable height: 17.3 - 22.8 in / 440 - 580 mm). The external design of the lifting mechanism and the backrest base are made of durable chrome plated metal.
The seat and back of the chair are covered with artificial leather (vinyl). This material as well as graphite-containing material and metal of the ESD wheels (5cm / 2in diameter) and five-star feet provide good conductivity and allow the static charge to flow smoothly and continuously.
Surface resistance is 106-109 Ω.
Aktakom AEC-3528 would be also a perfect chair for service centers, measuring and university laboratories, electronics production, office and home.
There are no special assembly requirements, it can be easily done by anyone! And the price would be a pleasant surprise for you – 99$ only!
---
Related Information: