Reliable multimeter from Aktakom – AMM-1022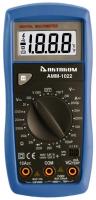 19.12.2016
Aktakom AMM-1022
digital multimeter is a reliable and low-cost measuring instrument used for typical measurements. This model is equipped with a large LCD (1999 digits) displaying large figures and symbols for easy reading.
Other features of the model are as follows:
When measuring DC and AC voltage the input impedance is 1MΩ.
When measuring AC voltage the operating frequency is 40 to 400 Hz
Data hold function
hFEmeasurement: from 0 to 1000
Full overload protection at all ranges
Automatic indication of polarity
Low battery indication
Protection categories: CAT III 600V; CAT II 1000V
The web page of Aktakom AMM-1022 multimeter contains the detailed specifications as well as the additional pictures.
We hope that you will find very useful the instructions for some measurements according to the below list:
Temperature measurement
Transistor measurement
Voltage measurement
Continuity test
Resistance measurement
Diode test
This information is given in a very detail in "Application" tab.
More information is given here, on Aktakom AMM-1022 page.
---
Related Information: