Aktakom AM-1038 – for those who need a reliable and low-cost multimeter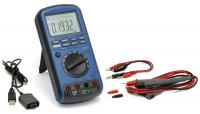 05.12.2016
The accuracy of high-end
AM-1038 multimeter
is 0.03%! It is designed to measure AC/DC, voltage, resistance, capacity, frequency, temperature, it can show dBm and allows data transferring to the PC via optically isolated USB interface. If you need awesome multimeter, this multimeter is for you!
Aktakom AM-1038 has many other additional functions:
Display: 50000 counts
Base accuracy 0.03%
True RMS
Resolution 0.01Ω (resistance meas.) and 1μV (voltage meas.)
dBm measurements
Min/Max, relative measurements
Auto and manual measurement range selection
Data hold
Backlit display
Auto turn-off
USB 1.1 interface with galvanic isolation
For AM-1038 multimeter operation they use special AM-1038-SW software. This software includes all necessary functions (analog scale, virtual display, graphic window, statistics window and MIN/MAX field). Depending on the chosen frequency of data acquisition this multimeter allows you to record over 45 hours of statistical information. Data acquisition rate when connecting to the PC is from 0.2 to 2 meas/s.
Much more information including the detailed specifications, accuracy tables, additional pictures and video as well as the answers for the frequently asked questions can be checked on the page of Aktakom AM-1038.
---
Related Information: