New DC Power Supply model – AKTAKOM ATH-2333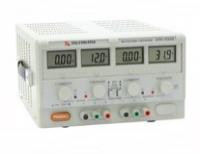 08.11.2016
DC power supply range of our Catalog enumerates over 40 models with different technical specifications suitable for various types of measurement tasks. Herewith we would like to introduce one more model from AKTAKOM – ATH-2333.
AKTAKOM ATH-2333 is widely used in debugging process, repair and laboratory research. ATH-2333 outputs smoothly adjustable stabilized DC voltage and stabilized current. It's a perfect power supply for science investigation, college, factory, electronic appliance maintenance and etc.
This high-precision power supply is dual-channel. Output voltage: 0...30 V (each channel), output current range is 0…3 A (x 2). This model is equipped with 4 LCDs (3 digit) displaying the voltage/current parameters for each channel.
AKTAKOM ATH-2333 has the following other specifications:
Inaccuracy of output voltage setting: 1% + 2 digits
Inaccuracy of output current setting: 2% + 2 digits
Voltage ripple and noise, RMS (typical): 1mV
Current ripple and noise, RMS (typical): 2 mA
Power supply: 110V/220V
Dimensions: 14.4x6.5x10.4 in / 365x164x265 mm;
The price of this new power supply will be a welcome surprise for you!
Find more details on AKTAKOM ATH-2333 page.
---
Related Information: