AKTAKOM non-invasive AC sensors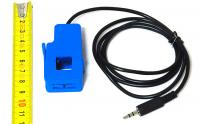 23.03.2020
AKTAKOM AME-8821-xx series consist of several non-invasive AC sensors equipped with a current transformer used on the basis with a split ferrite core. It's recommended to use it for current measuring monitoring as well as for power efficiency control.
The models differ from each other with maximum current which coincides with the model number. Thus AME-8821-05 has 5A at max, AME-8821-10 – 10A, AME-8821-100 – 100A, AME-8821-20 – 20A, AME-8821-30 – 30A, AME-8821-50 – 50A.
The other specifications:
Capture parameter: 0.5 in x 0.5 in / 13 mm x 13 mm
Lead wire length: 4.9 ft / 1.5 m
Ø3.5, three-pin
Output type: voltage (built-in low-value resistor)
Core material: ferrite
Mechanical strength: no less than 1000 times closing (test temperature: 68°F / 20°Ñ)
Dielectric strength (between the shell and output): 5000 V AC/1 min.
Operating temperature: -13°F +158°F / -25°C +70°C.
Choose the necessary sensor which meets your requirements from the following list in Sensor section.
---
Related Information: