Right way to use AKTAKOM ATK-2001 clamp meter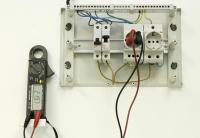 29.08.2016
ATK-2001 model is included into our wide range of AKTAKOM clamp meters. This model is a highly sensitive handheld clamp meter with AC/DC resolution of up to 0.1 mA/1 mA. ATK-2001 has an embedded universal multimeter equipped with a special input to connect measuring adapters with millivolt output.
AKTAKOM ATK-2001 has the following specifications:
High resolution when measuring 1 mA DC, 0.1 mA AC
Single button pressing to set "0" when measuring the direct current
Noncontact frequency measurement
True RMS measurement
Relative measurements
Grip diameter: 0.9 in / 23 mm
3¾ digit LCD (4000 digits)
Graphical analog scale
Data hold function
Max. and min. values hold
Overload indication
Low battery charge indication
For your convenience the page of ATK-2001 contains Application tab where you will find the detailed description of the operation controls.
FAQ tab contains the answers for the frequently asked questions that you will find very helpful for the operation process.
For more details follow the current link to AKTAKOM ATK-2001 clamp meter page.
---
Related Information: