AKTAKOM ATK-4001 clamp meters. Frequently asked questions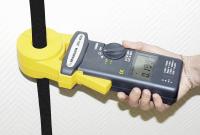 22.07.2015
AKTAKOM ATK-4001 clamp meter is designed for grounding resistance, leakage current measuring as well as for continuity test. This model allows user to take measurements only on one ground wire without using any additional electrodes, also ATK-4001 can be used to test multiple grounds systems without turning them off.
The main feature of this clamp meters are as follows:
Non-contact ground resistance measurement
No auxiliary electrode needed
Jaw diameter: 0.90in / 23mm
0.025 – 1500 Ω
0.2mA– 30A,True RMS
116 sets of memory
Programmable data logging
To make ATK-4001 clamp meter operation easy we have prepared the answers for the frequently asked questions which concerns: the setting of the sampling interval when operating AKTAKOM ATK-4001 clamp meter; reading of the data stored in the memory of this clamp meter model; the activation of data logging function of ATK-4001 and other questions.
To find the details see AKTAKOM ATK-4001 page, FAQ tab.
---
Related Information: