AKTAKOM at Campus Technology 2014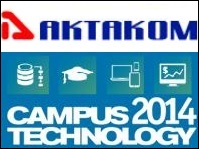 03.06.2014
21st Annual Education Technology Conference Campus Technology 2014 will be held on July 28-31 in Boston, MA, USA, Hynes Convention Center. The focus of Campus Technology is to allow attendees to explore the tools, strategies and innovations that provide them with the most up-to-date information on new tools, applications and services in intimate discussions and group settings.
At this conference there will be a chance to see new AKTAKOM models. AKTAKOM brand combines the wide range of test and measuring instruments of the highest Created by professionals for professionals, AKTAKOM's mission is to provide clients worldwide with the highest quality testing equipment. Quality, innovation and precision are the hallmarks of all the products under AKTAKOM trademark.
This time you will see new AKTAKOM ADS-4xxx series handheld digital storage oscilloscopes. Handheld Digital Oscilloscopes are 3-in-1 meaning they combine oscilloscope, DDM and datalogger functions. It can be used for different measurement tasks connected with field test, service support. These models are perfect for the use in research laboratories and educational institutions. New oscilloscopes have such advantages and innovative technical features which do not pertain to some other well-known brands. The feature are as follows:
Touch sensor control
Isolated channels
Bandwidth: up to 200 MHz
Serial bus decoding
Capture rate: up to 190,000 wfms/s, etc.
These inexpensive innovative devices are perfect for the preparation of future engineers.
The new models can be seen at booth # 701
Find more detailed information about the Conference here.
---
Related Information: