Soldering station is used in the fields of electronic research, teaching and production, especially in the repairing and soldering on the electronic appliances and communication equipment.
Specifications
Channel: 1 assembling channel
Max. station power: 60W
LCD:
- shows the actual temperature of the soldering tip
- shows the setting temperature
Button type control
Temperature range: 160°C - 480°C
Max. power of the soldering iron: 60W
Soldering iron voltage supply: 24V
Ceramic heating element
ASE-1116 soldering station display and temperature setting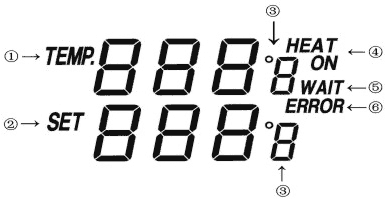 The digital display:
(1) shows the actual temperature of the soldering tip.
(2) shows the setting temperature. Pressing the «UP» or «DOWN» button can switch the digital display to the set point display. The setpoint can be changed for ±1°C by tapping the «UP» or «DOWN» button. Pressing the button will change the set-point quickly. The digital display will return automatically to the actual value and the iron will reach to the setting temperature quickly.
(3) °C/°F display: switching the temperature display from °C to °F by pressing the «°C/°T» button and then the electronic system will display the actual temperature (1) and setting temperature (2) in °F and vice versa.
(4) When the actual temperature on the soldering tip is less than the set-point, «HEAT ON» will display and make the soldering tip heating up.
(5) When the absolute offset is more than ±10°C between the actual temperature and the set-point on the soldering tip, «WAIT» will display. It means that the temperature electronic control system is not in the stable situation, we should wait a moment to let the «WAIT» disappear.
(6) When «ERROR» display, there may be a trouble on the system, or the soldering iron is not connected to the control system correctly.