AKTAKOM ACM-2025 uses the fork current sensing structure that provides easy to use application for current measurement, it is not necessary to open the jaws as compared to traditional clamp meters
Features
200 Amp ACA, DCA for fork current measurement
The design meets IEC 1010 CATIII 600V safety requirement
2000 counts, multi-functional
Measurement for ACA, DCA, ACV, DCV, Ohms, continuity beeper
True RMS measuring reading for ACV and ACA function
Data hold
Peak hold
Overload protection circuit is provided for all ranges
LSI circuit provides high reliability and durability
Pocket and slim housing case, easy carryout
Compact and heavy duty ABS housing fireproof plastic case
Specifications
General specifications:
Display: 12.2mm (0.48") LCD, 3 1/2 digits; Max. indication 1999
Measurement range: ACA, DCA, ACV, DCV, Ohms, Continuity beeper
Polarity: Automatic Switching, "-" indicates negative polarity
Current Sensor: Hall effect sensor
Zero adjustment:
DCA: Push bottom adjustment
Other ranges: Automatic adjustment
Over-input: Indication of "OL"
Sampling Time: Approx. 0.35 second
Operating temperature: 0 to 50°C (32 to 122°F)
Operating humidity: Less than 80% RH.
Max. fork jaw, open size: 0.59in/15mm Dia.
Electrical specifications (23±5°C):
| Function | Range | Resolution | Accuracy | Overload protection |
| --- | --- | --- | --- | --- |
| DCV ACV (true rms) | 600V | 1V | DCV: ±(0.8%+1d) ACV: ±(1%+2d) | AC/DC 600V |
| DCA ACA (true rms) | 200A ACA: 0.5 to 200A | 0.1A | DCA: ±(2%+5d) ACA: ±(2%+8d) | AC/DC 200A |
Remark:
True RMS measuring reading for ACV and ACA function
Input impedance for ACV & DCV range is 9Mohm
ACA, ACV frequency response is from 40 to 1KHz
ACA, ACV specifications are tested on sine wave 50/60Hz
Function
Range
Resolution
Accuracy
Overload protection
Ohm
200 Ohm
0.1 Ohm
±(1%+2d)
AC/DC 400V
Continuity
If the measuring resistance is less than 10 ohm the beeper will sound
Peak Hold
Acquisition Time: Approx. 800ms. Application: Use for measuring transient signal for current
Dimensions: 6.9x2.4x1.6in/176x60x41mm
Weight: 0.45lb/205g (including battery)
Accessories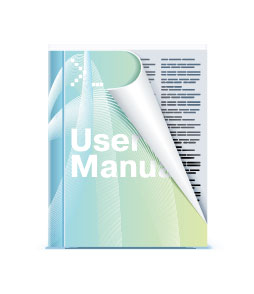 Functions illustration
Thanks to wide functionality, special design and compact size ACM-2025 can accomplish a wide range of electrical, service and domestic tasks:
1. Inductive non-contact True RMS AC and DC current measurements (e.g.: circuit breaker load current).
Thanks to the True RMS feature the instrument is capable to measure non-sinusoidal signals.
DCA ZERO button helps to clear the display in DC measurement mode.
Compact size of open clamp "jaws" makes it easier to work in hard-to-reach places and wire bundles.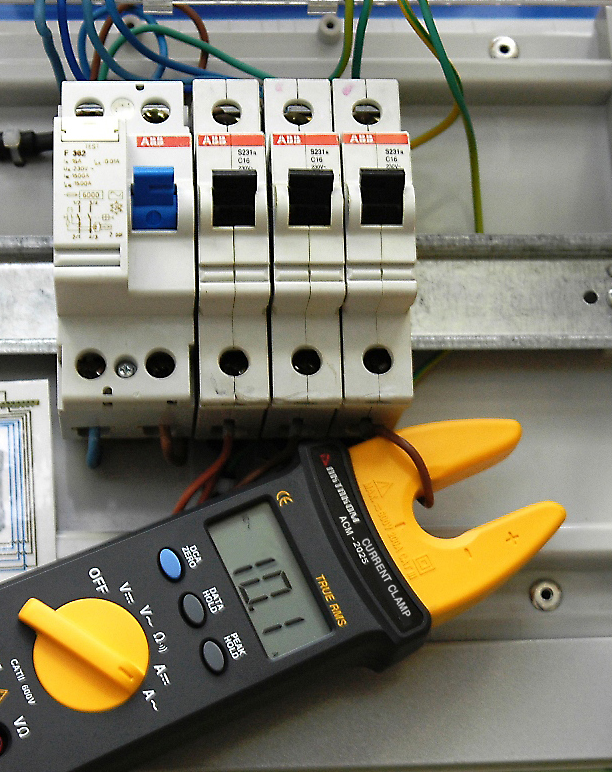 2. Current consumption peak value measurements (DATA HOLD and PEAK HOLD buttons fix current or peak values (800 ms) on the display).
This allows to optimize the load on the individual outlet power lines in the room and identify the cause of the sudden breaker tripping or fuse blowing.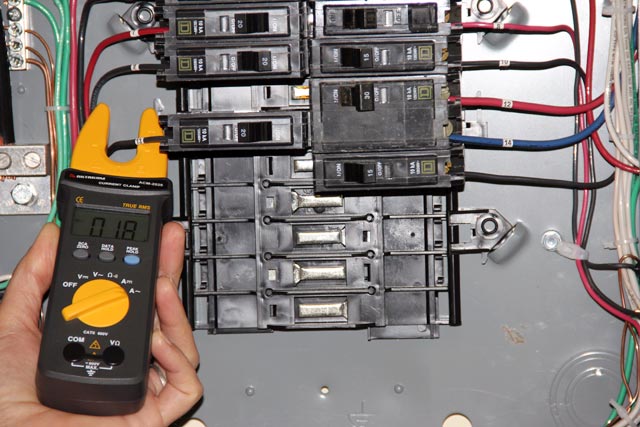 3. AC Voltage measurements (e.g.: at the feeder switchboard breaker poles).
The voltage tester function is built-in: just connect the standard test leads (included).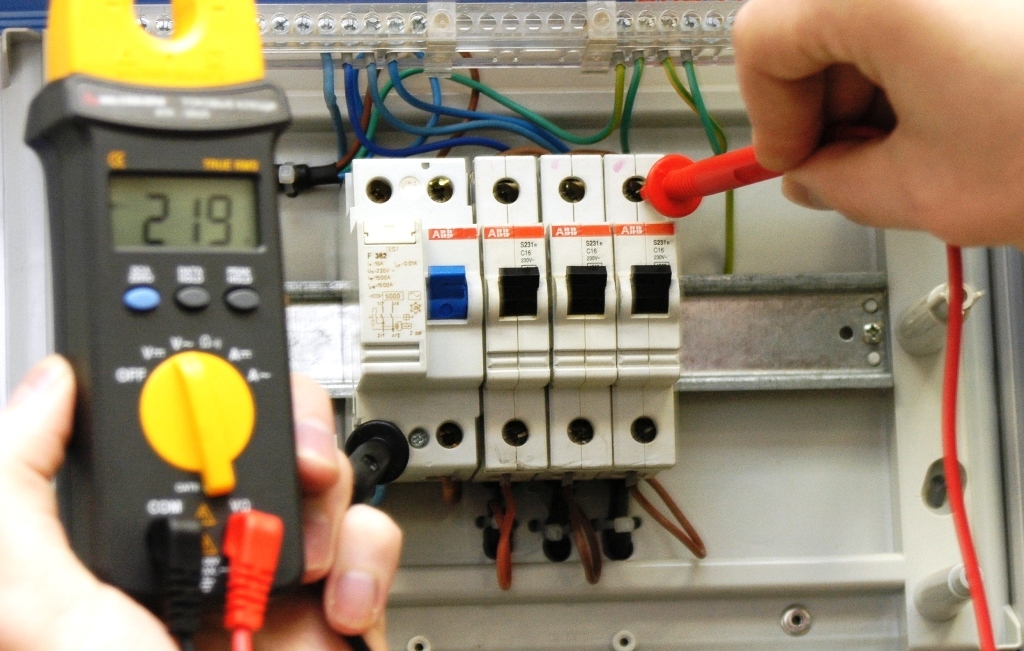 4. DC voltage measurements (e.g.: laptop adapter DC output connector).
DC voltage device diagnostic with automatic polarity indicator enriches the field of use.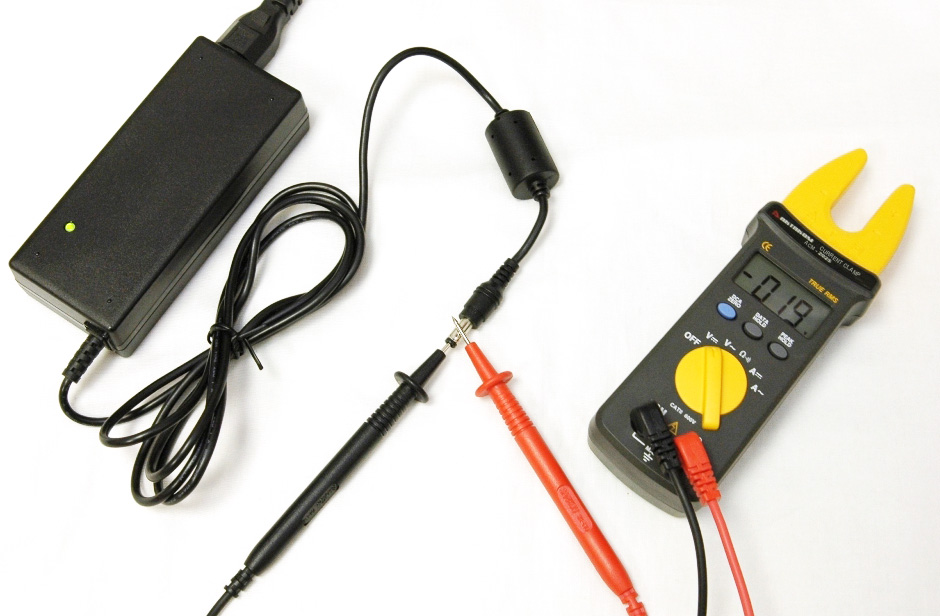 5. Resistance measurements (e.g.: PCB components).
Circuits and individual components (including SMD) resistance measurements.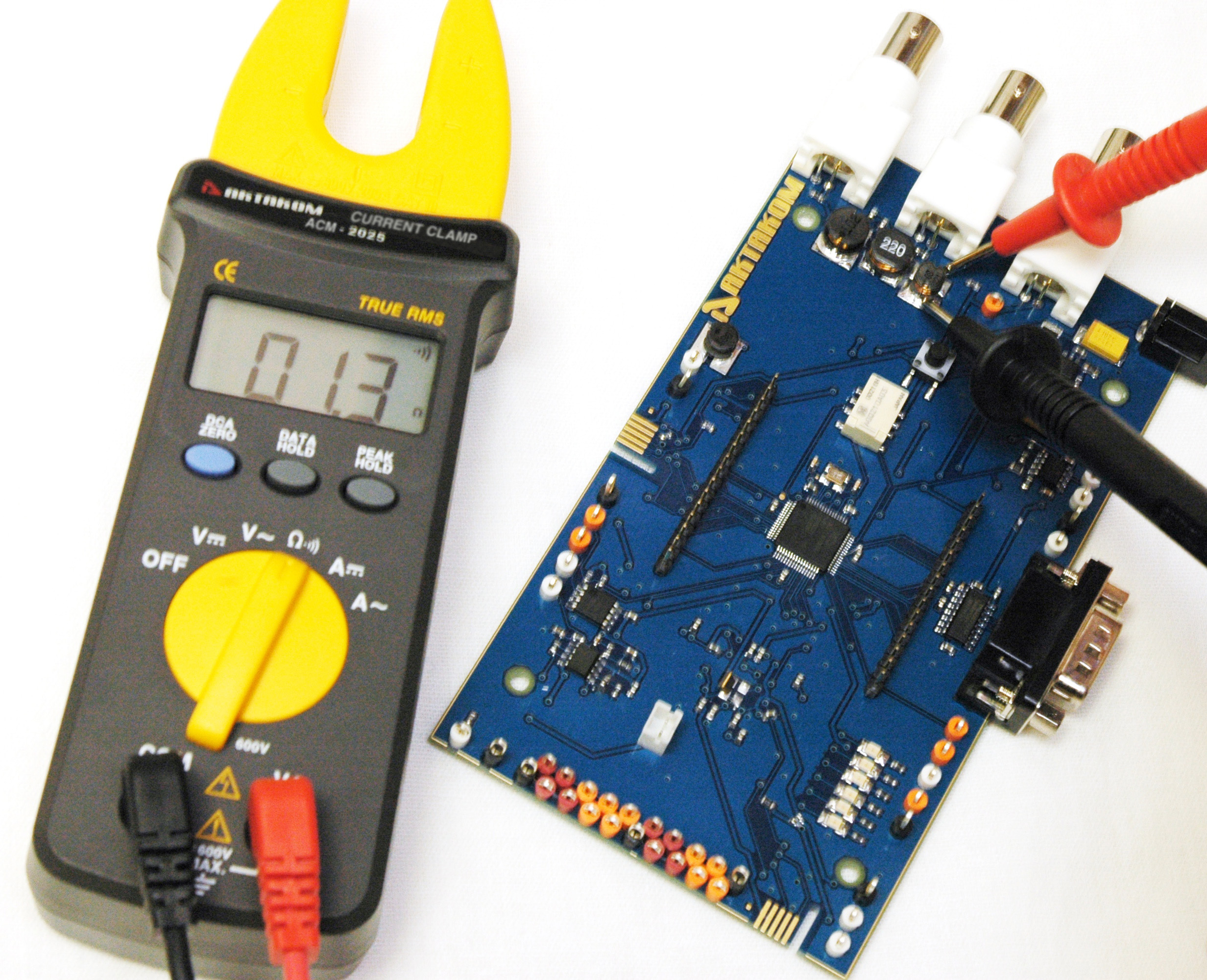 6. Continuity test (e.g.: AC/DC laptop adapter earth core continuity test; board circuits testing).
Audible alarm is triggered automatically in resistance measurement mode if the value is less than 3 Ohms.