AKTAKOM AEC-3536 ESD PU foaming chair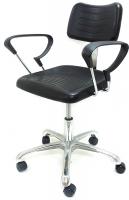 26.04.2021
When equipping modern electronics production it's necessary to pay attention to means of protection against electrostatic charging. Thus ESD chairs should have high strength characteristics. The material of the seat and back should be conductive. The wheels and feet should be made of graphite-containing material or metal providing good conductivity and allowing the static charge to flow smoothly and continuously.
AKTAKOM has a wide range of ESD-safe chairs and we are ready to introduce one of them – AEC-3536 ESD PU foaming chair which is perfect for service centers, measuring and university laboratories, electronics production, office and home.
Below you may see the main specifications of this model:
ESD-safe
Surface resistance: 106-109 Ω
Adjustable height: 16.5 - 22.4 in / 420 - 570 mm (match the wheels)
Five star foot: aluminum alloy, R = 12.6 in / 320 mm
Wheels: 5 pcs conductive type wheels
Armrest: unadjustable
Color: Black
Seat: 16.9 x 16.5 in / 430 x 420 mm
Back: 14.2 x 8.7 in / 360 x 220 mm
For more details click here
.
---
Related Information: