Extended precision of measurements with AKTAKOM AM-6007 milliohm meter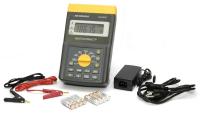 28.12.2020
AKTAKOM AM-6007 milliohm meter is used to measure low values of resistance in circuits and their components, as well as contact resistance. Measurements are performed with 4-wire Kelvin clips that makes the measurement results much more precise.
The basic error of the device is only 0.05%, and the maximum resolution is 1 μΩ! The maximum value of the measured resistance is 6,0000 kOhm.
With AM-6007 itís possible to select ranges manually and automatically with different values of the test current: 100 μA, 1 mA, 10 mA, 100 mA, 1 A, 5 A.
Large 4 5/6 digit LCD with backlight facilitates measurement in terms of low light.
Built-in range sorting function with a sound signal allows user to sort out the input control of the components, and the memory for 3000 measurements further extends the capabilities of AM-6007 milliohm meter.
AKTAKOM AM-6007 can be powered either from network (using a 12V / 2A adapter) or from 8 accumulator batteries (1.2V / 2700mAh) which provide up to 10 hours of self-contained operation.
For further results process user may connect AM-6007 to the PC via RS-232C/USB interface. AM-6007 has compact design (257x155x57 mm) and rather light weight (1.16 kg).
Additional features and pictures of AKTAKOM AM-6007 are available on its web page.
---
Related Information: