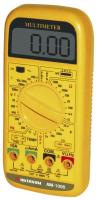 21.11.2016
Due to small dimensions and light weight as well as a wide range of functional capabilities the multimeter took the rightful place among modern test and measurement devices long time ago. They have become irreplaceable in diagnostics, repair and debugging processes especially in the field.
AM-1006 digital multimeter is a classical representative of this device type and it's designed to measure AC and DC, AC and DC voltage, capacity, resistance, temperature, frequency, transistor amplification factor as well as for diode test and continuity test. The measurement mode selection is made with the rotary switch on the front panel of the device.
Aktakom AM-1006 is very convenient and low cost and the list of values that can be measured is quite enough for the majority work types during the debugging processes, repair and laboratory research.
AM-1006 multimeter has good metrological characteristics. So-called "basic" inaccuracy (usually under this they take the basic relative inaccuracy of voltage and DC measurement) is 0.5%.
The measurement results are displayed on 3˝ digit display with 18 mm figure height. AM-1006 multimeter is capable of taking 2.5 measurements per second. Diode testing is taken at approximately 1 mA current, voltage drop shouldn't be higher than 3V of DC. While continuity testing the response level equals approximately 100 Ohm. AM-1006 multimeter allows controlling the transfer coefficient of the transistor current at 0…1000 range for both p-n-p and n-p-n transistors. At the same time the basic direct current is approximately 10 µA and the collector-to-emitter voltage is approx.. 2.8V.
Temperature measurement is made with the help of a special temperature probe with K-type thermocouple at–20 to +750°C range.
The multimeter is powered with 9V battery. In the standard mode the battery resource is enough for approximately 200 hours of constant operation. AM-1006 multimeter has an overload protection for all measurement modes, auto indication of the polarity and nulling function for the display readings. To protect the current inputs there is a fuse used.
To measure the capacity they use the inputs other than the main measurement sockets. Besides there are separate sockets to connect transistors when testing them.
On Aktakom AM-1006 we page you will also find accuracy tables and additional pictures.
See more details on Aktakom AM-1006 page.