AKTAKOM AM-7111. Right way to operate this process calibrator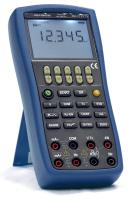 05.10.2020
AKTAKOM AM-7111 multifunctional process calibrator is designed to generate high-precision signals when testing and calibrating different types of equipment (probes, measurers, converters, controllers etc.) during repair or adjustment work. These compact handheld devices are necessary for service engineers, they save time and solve a wide range of tasks in field conditions.
Check "Application" tab on the page of AM-7111 to see the right way it should be operated. There have been also several questions and answer added accordingly into "FAQ" tab.
More details are available on AKTAKOM AM-7111 page.
---
Related Information: