Subscription Services to News and Deals are now available on T&M Atlantic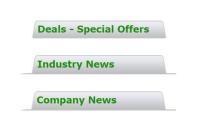 06.09.2023
T&M Atlantic is now offering subscription services to our most popular sections of the website.
You can choose to subscribe to:
Company News
Industry News and Events
T&M Atlantic Deals-Special Offers
You can subscribe to any of this categories but we recommend to choose them all.
To subscribe click on News on the main bar. The dropdown menus will show News categories and the subscription link on top.
Follow instructions to subscribe.
Please note you will need a valid E-mail address to confirm your subscription request.