New AKTAKOM ATH-3333 DC power supply is available in our catalogue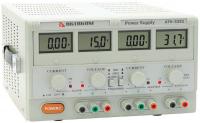 15.04.2016
We are glad to inform that at the moment there is a new DC power supply model available in our Catalogue. Herewith we are introducing a new low-cost AKTAKOM model named ATH-3333.
The new power supply with digital indication is designed for the use in debugging process, repair or in laboratory research.
AKTAKOM ATH-3333 power supply outputs smoothly regulated stabilized DC Voltage up to 30V and stabilized current up to 3A.
Among other features of this power supply there is a short circuit protection available and stabilization mode (current, voltage). ATH-3333 is equipped with 4 3-digit LCDs with clear indication.
ATH-3333 is supplied from AC network of 110/220V.
Find more details on the page of AKTAKOM ATH-3333.
---
Related Information: