NEW! Aktakom APS-1306 DC Regulated Power Supply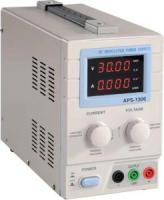 21.06.2017
The range of Aktakom power supplies has got a new low-cost model now – APS-1306! New model represents a single channel power supply equipped with dual LED display simultaneously displaying both voltage (up to 30 V) and current (up to 5 A).
Aktakom APS-1306 DC regulated power supply is designed to power radio technical equipment with stabilized voltage and current in repair process, laboratory research.
The present model is perfect for repair services and in scientific and research laboratories.
Below is the list of features and specifications that you will definitely find very useful:
output voltage inaccuracy: ±(0.5% + 20 mV)
output current inaccuracy: ±(0.5% + 2 mA)
voltage ripple & noise: 2 mV RMS.
protection mode: voltage and current limitation
current and voltage stabilization mode (CC and CV)
output connectors: insulated safety plugs
organic glass front panel / other panels made of steel
More features of this new APS-1306 power supply is all available here.
---
Related Information: