Multifunctional temperature controlled station from AKTAKOM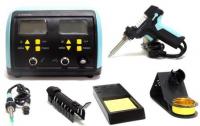 27.09.2021
Multifunction stations are very convenient since they represent universal systems combining the features necessary for both process types, soldering and desoldering. Such devices can be used by one specialist and significantly save the working space.
AKTAKOM ASE-3107 multifunction soldering and desoldering station is especially developed for electronic product research, production and rework. This model is used in the repairing and reworking on the electronic appliances and communication equipment.
ASE-3107 soldering station (of max. consumed power 210W) is temperature controlled and its temperature range is 160°C - 480°C.
The soldering iron and the desoldering gun are controlled automatically by two micro-processors. The max. power of the soldering iron is 60W, desoldering gun – 80W.
In this model there is a high quality durable ceramic heating element used which has a long service life. This heater represents the most advancing technology and has perfect high heat transfer that can save the power and reduce the time required for heating up.
To check more features of Aktakom ASE-3107 temperature controlled soldering and desoldering station follow the present link.
---
Related Information: